TRAINING:
The final meeting of Moving Beyond was held on 18 June 2016 in Berlin in conjunction with the 20 th International Congress of Parkinson's Disease and Movement Disorders More Information
Neurodegenerative disorders are the Europe's largest health care challenge of our century. A focused, intersectoral pooling of all competences available in the field is needed to overcome this societal challenge. It is the objective of Moving Beyond to fulfil the demand for well-educated personnel addressing the needs of both the private and the public sector, and therefore to be fully prepared to meet the increasing demands of the European (scientific) labour market. To achieve this, fellows will not only be trained in a real inter- sectoral, but also inter-disciplinary (scientists, engineers) environment, bringing together a wide range of assessments (from genetics and molecular biology, via behavioural assessment to programming and data analysis). In addition, attention will be paid to entrepreneurial skills and the management of innovation, product development and marketing.
Local Training
Supervision, monitoring and assessment
Fellow
Second Mentor
Elizabeth Mali
UCL
Bas Bloem
RUNMC
Yoav Beck
TASMC
Rob van Lummel
Mc Roberts
Shreyas M. Suryanarayana
KI
John Rothwell
UCL
Janet van Uem
Uni Tübingen
Rob van Lummel
Mc Roberts
Pedro Custodio
Motek
Peter Praamstra
RUNMC
Tomislav Pozaic
Bosch
Walter Maetzle
Uni Tübingen
Encarne Mico Amigo
McRoberts
Walter Maetzle
Uni Tübingen
Claudia Stummer
RUNMC
John Rothwell
UCL
Serena Maggioni
Hocoma
Jeff Hausdorff
TASMC
Structured doctoral training
Fellow
Graduate school
Elizabeth Mali
UCL
UCL Graduate School
Yoav Beck
TASMC
Enroment process ongoing
Shreyas M. Suryanarayana
KI
Doctoral School of Karolinska
Janet van Uem
Uni Tübingen
Graduate Training Center of Neuroscience Tuebingen
Pedro Custodio
Motek
MOVE Research institute from VU Amsterdam
Tomislav Pozaic
Bosch
Network of Bosch PhD students
Encarne Mico Amigo
McRoberts
VU University Amsterdam, Faculty of Human Movement
Claudia Stummer
RUNMC
Donders Centre for Neuroscience
Serena Maggioni
Hocoma
ETH Graduate School
Mutual access to local training programmes
The fellows have continuous information and access to many excellent training courses offered locally by the Moving Beyond partners.
Personal Development plan
Moving Beyond wants the fellows to actively plan their own development, based on their needs, interests and aspirations. Therefore, each fellow has set-up a Personal Development Plan tailored to the individual requirements.
Network-wide training
Secondments
Each fellow will pursue a research project at one of the participating partners. An essential part of each research project fellow is secondment into one or two complementary research groups at partner labs for a period of 1 to 6 months (according to the needs of the projects). The choice of the associated groups will mainly be determined by two factors: (1) needs and gain of the PhD project, and (2) academia-industry transfer of knowledge.
Fellow
Host
Date
Elizabeth Mali
UCL
RUNMC
Feb – July 2015
Yoav Beck
TASMC
Mc Roberts
Sep 2014
Shreyas M. Suryanarayana
KI
Hocoma
July 2014
Janet van Uem
Uni Tübingen
Mc Roberts
Jan – Feb 2014
Pedro Custodio
Motek
RUNMC
Aug 2013 – Jan 2014
Tomislav Pozaic
Bosch
Uni Tuebingen
Dec 2014
Encarna Mico Amigo
McRoberts
Uni Tuebingen
July - Aug 2014
Claudia Stummer
RUNMC
UCL
Oct – Nov 2014
Serena Maggioni
Hocoma
TASMC
Jan 2015
Training weeks
The scientific in-depth training will be complemented by broad-spectrum training in the form of training weeks. These training weeks reflect directly both the work package structure and the intersectoral composition of the consortium. Complementary skill classes are integrated in the training weeks.
Training week 1: Clinics of age and disease related motor symptoms
Complementary skills: Career development, Effective Scientific Presentations
21-27 October, 2013
Nijmegen, the Netherlands
Organised together with the Initial Training Network PhenoRat
Training week 2: Neural basis and motor function of basal ganglia
Complementary skills: Project management
11 – 13 March 2014
London, UK
Training week 3: Measurement, analysis and diagnostic of motor behaviour
Complementary skills: Communication and Leadership
30 September – 05 October 2014
Den Haag and Amsterdam, The Netherlands
Training week 4: Applied measurement and training of gait and physical activity
Complementary Skills: Job interview
Professor-for-a-day
17-22 March 2015
Zuerich, Switzerland
Stuttgart, Germany
Summer School
Translational Research
Complementary skills: Grant writing
30 August – 04 September 2015 Crete, Greece
General meetings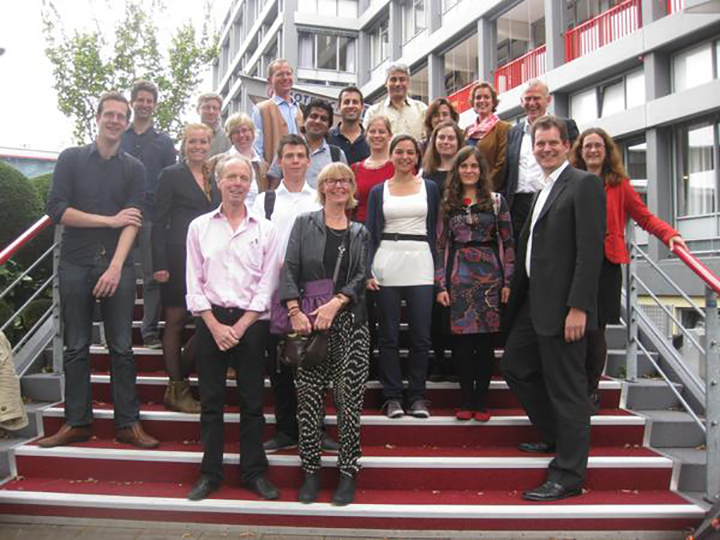 Kick-off meeting 1:
21 – 22 February 2013
Tuebingen, Germany
Annual meeting:
10 March 2014
London, UK
Mid-term review meeting
29 September 2014
Den Haag, The Netherlands
Annual meeting 2:
16 March 2015
Zuerich, Switzerland